These are a few of my favourite, house things!
[one]
I found this gorgeous vase at a second-hand store and I spray painted it white. It has the most beautiful detailing on it. The two soaps were an engagement present from my Aunty & Uncle. White-on-white I just love that look!
[two]
Our wedding cake toppers sit in the entrance to our house. My man chose these for the wedding and he put a lot of effort in trying to make them look like us!
[three]
This gorgeous Royce McGlashen pottery 'bowl' was given to us as a gift. It is beautifully textured on the outside and a magnificant blue on the inside. It sits on the window sill, looking out to sea.
[four]
Flowers can brighten a day! I came home last Friday and two gorgeous pot plants were sitting wrapped up on the table. My mum has ordered them for me with a little note to say she was thinking of me. Aww..
[five]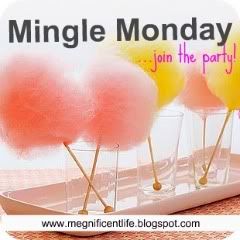 Mingle time!